An exclusive single cask of whisky from Macallan Distillery that was distilled in 1991 and specially selected as the result of the first collaboration between S&S Group and Blair Bowman - the renowned Whisky Consultant and Broker.
This rare and old whisky has been aged since '91 which has been made for over three decades, therefore, allowed it to develop complex flavour and aromas that are characteristic of well-aged Macallan whiskies.
The whisky has a bright mahogany colour and a nose that is full of delicious tropical fruit notes such as dried mangoes, papaya, and BBQ-ed pineapple. As the whisky opens, it also reveals notes of sweet and spicy candied pecans and almonds, candied apples with cinnamon and nutmeg, and freshly polished mahogany wood.
On the palate, this whisky has a wonderful balance of sweet fruit and woody spice, with flavours of deep and rich wood spiciness, sherry sweetness, dried raisins, and a slight hint of maraschino cherries and maraschino liqueur. The finish is long and lingering, with pops of sweet, dried fruits and warming spices. Overall, this is an excellent and very appealing whisky that is sure to be enjoyed by whisky connoisseurs.
Release layers of senses and taste buds
There are several factors that make every single drop of the whisky outstanding. First, this Macallan single cask bottling from 1991 is a rare and exclusive release from one single cask, meaning that the flavours and aromas of the whisky are unique to that cask. This adds a level of uniqueness and excitement for whisky collectors and enthusiasts who are looking for something truly special and rare to add to their collection. Or even to start a whole collection for beginners. What better than an over 30-year-old whisky bottle from a single cask distilled from Macallan – the legend land offers 'Rolls-Royce of whisky'!
Secondly, the fact that this whisky was distilled in 1991 and has been aged for over 30 years is also a significant factor. Macallan is known for producing some of the finest aged whiskies in the world, and this whisky has had ample time to mature and develop distinct flavours and aromas that are characteristic of well-aged Macallan whiskies.
Additionally, the source of the whisky is also significant, as Macallan is a highly respected and prestigious whisky distillery that is known for producing some of the world's finest single malt whiskies. This whisky started off its maturation in an American standard barrel that had previously been used for maturing bourbon, giving lots of tropical fruit notes. The whisky was then finished in a fresh European Oak oloroso sherry cask adding layers of rich dried fruits and raisins.
Overall, the combination of unique flavours and aromas, the rarity of the single cask bottling, the long aging process, and the reputation of the Macallan distillery all make this whisky a truly special bottling for whisky enthusiasts and collectors.
A way to "cheers" a decade – journey and to many many more…
S&S Group and Blair Bowman join and accompany each other throughout this whisky project on the 10th anniversary of the Group.
It has been a decade since S&S Group joined luxury industry in Vietnam. 10 years of strikingly offer the essence of luxury lifestyle in multiple divisions such as watches & jewellery, (ultra) luxury automotive, art and fashion. All these segments are always parts of any significant and quintessential collections of a true connoisseur of his own kind. It is obvious to recognize all the luxury brands, which are represented by S&S Group, always pay momentous tribute to heritage and craftmanship – the two elements that made us the civilization today. This stunning whisky barrel since 1991 would not have been here with us if it is not for Blair Bowman – a true whisky consultant.
Blair Bowman's passion is whisky. A proud Scotsman, he co-founded a Whisky Society and created World Whisky Day at the age of 21. Since then, whisky has become his life's work.
Bowman loves to show people there's more to whisky than they might expect. Serving drams with his own innovative twist has secured his unique reputation in the whisky world. He hosted bespoke tastings on a global level and introduced many to the joy of whisky, including Royals and Ambassadors.
He has the privilege of working with a very select network of trusted suppliers, each offering whisky of impeccable provenance and exceptional quality. As a result, Bowman speciality is in sourcing old and ultra-rare whiskies, with unparalleled access to exclusive casks (and bottles) of the finest single malt scotch whisky. Bowman takes great pride in being able to source casks from birth years, rare casks from closed distilleries and once-in-a-lifetime casks, as well as bespoke bottles that will never be seen on a shelf.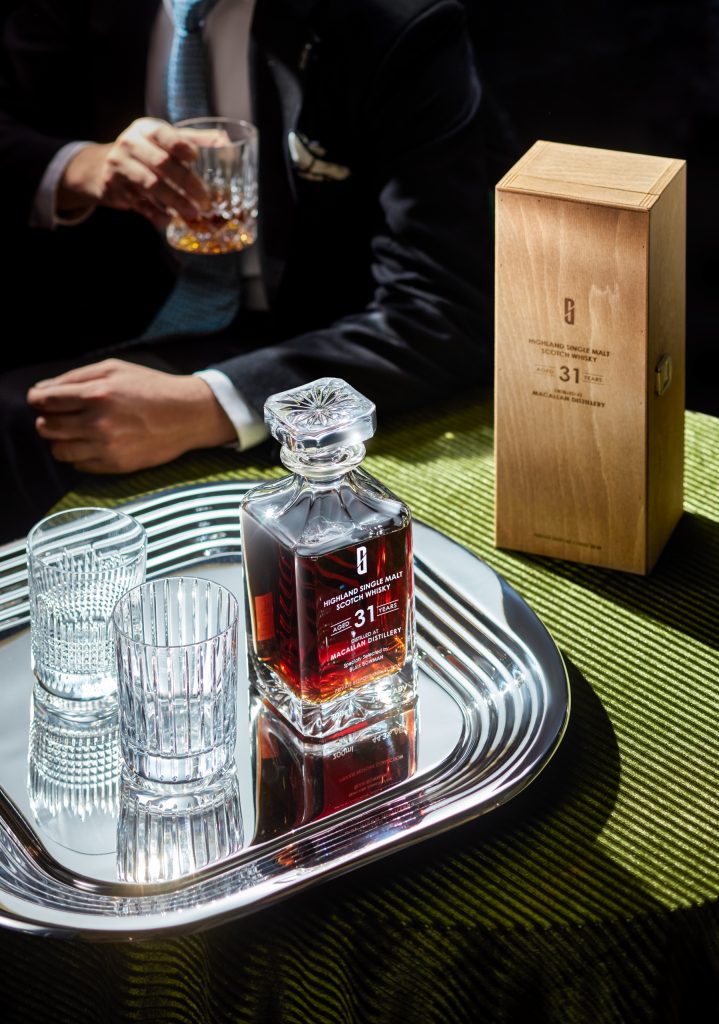 When it comes to bottling such rare whiskies there are infinite possibilities. The only limit is your imagination. Whatever you desire in the world of whisky, Blair Bowman will help you find it.
This is unquestionably only the beginning of this wonderful new chapter, more casks will be exclusively chosen and delivered to the whisky-lovers and collectors.